Palestine Activists Win Court Victory -- Elbit Spy Towers Stalk Tohono O'odham
Article by Brenda Norrell
Censored News
French translation by Christine Prat
Elbit Systems is the Israeli defense contractor who just built spy towers -- known as integrated fixed towers -- on the Tohono O'odham Nation, with a US contract and tribal government approval.
Now, vulnerable O'odham can be stalked by US Border Patrol agents using their laptops and the spy towers.
Already, three senior US Border Patrol agents have been charged as serial rapists in the Tucson sector -- which includes the Tohono O'odham and Pascua Yaqui Nations.
Jenn Budd, former senior US Border intelligence officer turned whistleblower, describes the rape culture within the U.S. Border Patrol.
"There are currently three senior Border Patrol agents on trial for rape in Tucson sector. When will Congress and the Department of Justice address the rape culture of @USBPChief "
"How many female agents, US citizens and migrants must be raped before this is addressed?" Budd said.
Meanwhile, in England, a court acquitted these activists taking direct action against Israel's Elbit Systems -- after an attorney argued that Elbit's crimes in Palestine -- drones, surveillance and human rights abuses -- were far greater than the activists actions in England.
Activists continue to protest Elbit's manufacture of weapons and war on Palestine.
'Not Guilty: Palestine Action Acquitted in First Trial'
Government prosecutors had brought charges against what had become known as "the Elbit Three" after they took action in February against the UAV Engines factory, an Elbit subsidiary in Shenstone near Birmingham, England, reports the Electronic Intifada.
The group occupied the factory rooftop, chained factory gates to disrupt business as usual, splattered the building with blood-red paint and even smashed windows.
Despite all this, the court on Monday acquitted the three of criminal damage.
Their lawyers – including Palestinian barrister Mira Hammad – successfully argued that while their actions constituted damage to the factory, it was not criminal damage, since it was proportionate action to prevent a much bigger crime in Palestine – that of Israeli violence against Palestinians such as the May war against Gaza.
Read the Electronic Intifada article: https://electronicintifada.net/blogs/asa-winstanley/not-guilty-palestine-action-acquitted-first-trial
French translation by Christine Prat

Par Brenda Norrell
Censored News
8 décembre 2021
Traduction Christine Prat

Elbit Systems est l'entreprise de défense qui vient de construire des tours d'espionnage – appelées tours intégrées fixes – dans la Nation Tohono O'odham, avec un contrat avec les Etats-Unis et l'approbation du gouvernement tribal.
Maintenant, des O'odham vulnérables peuvent être harcelés par les agents de la Patrouille des Frontières qui utilisent des laptops et les tours d'espionnage.
Déjà trois gradés de la Patrouille des Frontières ont été mis en accusation comme violeurs en série, dans la région de Tucson – qui englobe les Nations Tohono O'odham et Pascua Yaqui.
Jenn Budd, ex-officier des renseignements à la Frontière des Etats-Unis, devenue lanceuse d'alerte, parle de la culture du viol dans la Patrouille des Frontières des Etats-Unis.
« Il y a actuellement trois gradés de la Patrouille des Frontière jugés pour viols dans la région de Tucson. Quand est-ce que le Congrès et la Justice s'intéresseront à la culture du viol de USBPChief ? »
« Combien de femmes agents, de citoyens Américains et de migrants doivent encore être violés avant qu'on ne se préoccupe du problème ? » demande J. Budd.
***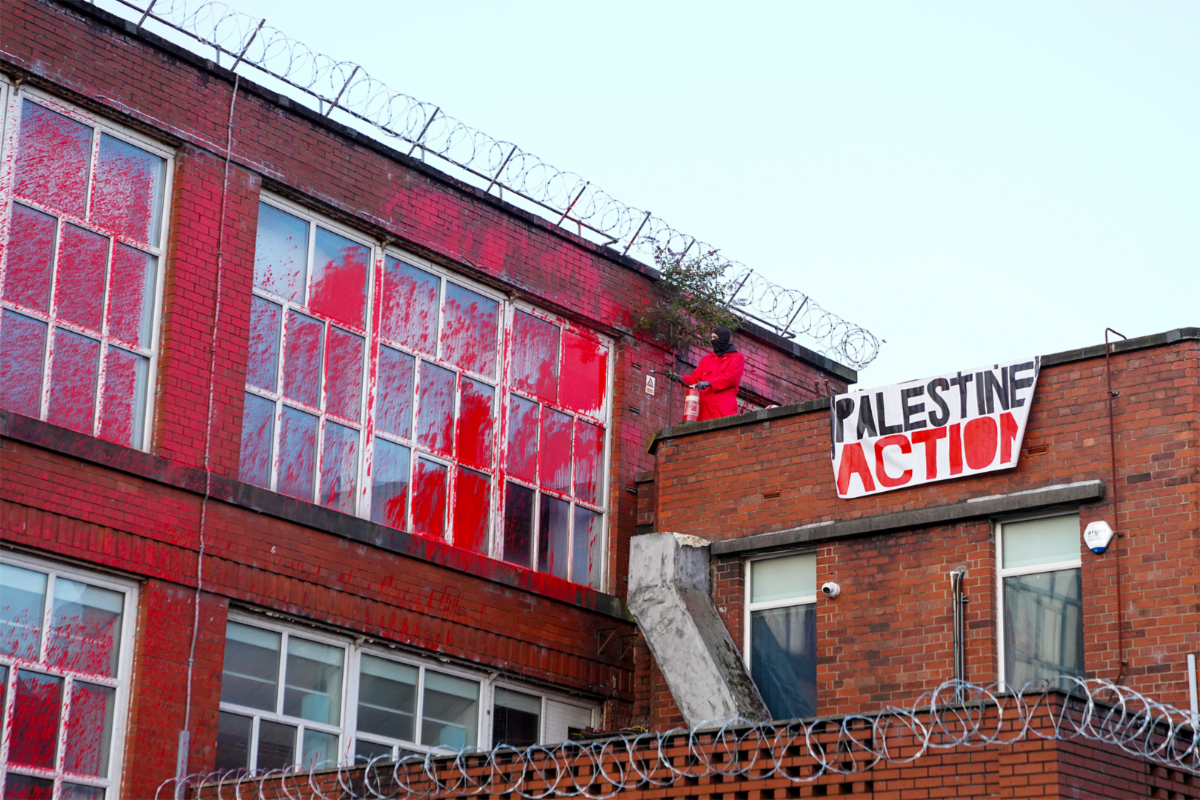 Pendant ce temps, en Angleterre, un tribunal a acquitté des activistes qui entreprennent des actions directes contre la compagnie Israélienne Elbit Systems, après qu'un avocat ait plaidé que les crimes d'Elbit en Palestine – drones, surveillance et violations des droits humains – étaient beaucoup plus graves que les actions des activistes en Angleterre.
Des activistes continuent de protester contre la fabrication d'armes par Elbit et contre la guerre en Palestine.
'Non coupables : Les membres de Palestine Action Acquittés au cours du Premier Procès'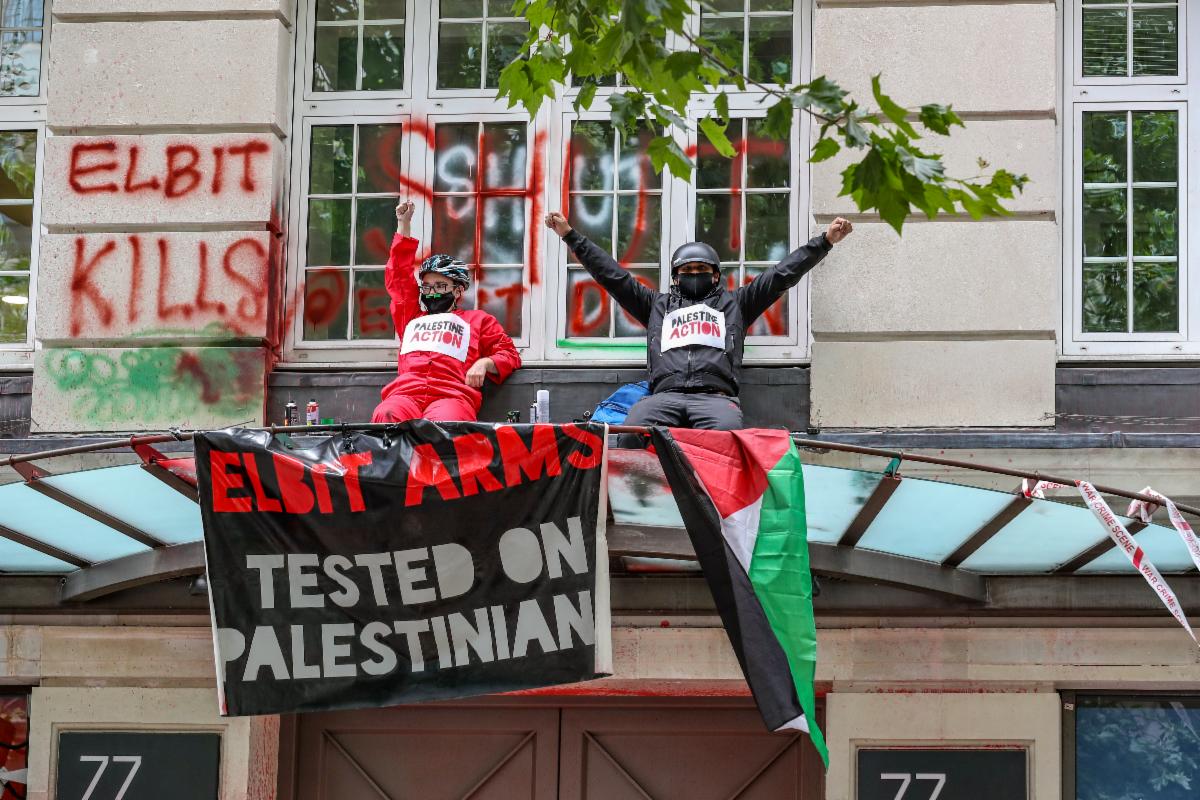 Les procureurs du gouvernement avaient prononcé des accusations contre ceux qui sont connus comme « les Trois d'Elbit », après qu'ils aient entrepris une action en février contre l'usine de Moteurs UAV, une filiale d'Elbit, à Shenstone, près de Birmingham, en Angleterre.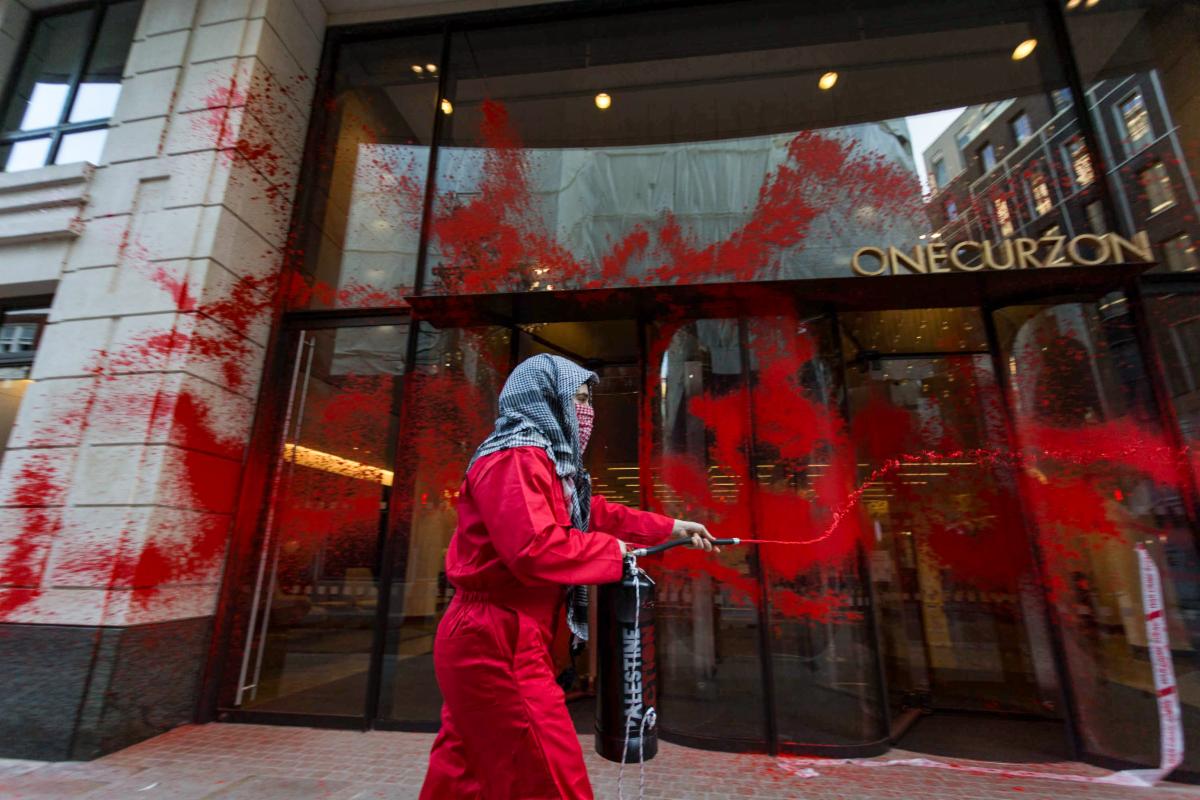 Le groupe avait occupé le toit de l'usine, mis des chaînes aux portes pour perturber le travail, et arrosé l'immeuble de peinture rouge sang, et même cassé des vitres.
Malgré tout cela, lundi, le tribunal a acquitté les trois accusés d'avoir causé des dégâts.
Leurs avocats – entre autres la juriste Palestinienne Mira Hammad – ont démontré avec succès que bien que leurs actions aient endommagé l'usine, ce n'était pas criminel, étant donné que c'était une action proportionnée pour empêcher un crime bien plus grand en Palestine – la violence Israélienne contre des Palestiniens, comme la guerre de mai contre Gaza.
English article copyright Brenda Norrell, Censored News. Photo 2 copyright Ofelia Rivas, Tohono O'odham. French translation copyright Christine Prat. Must have permission to use.