Matteson supporters stage support at the Aitkin courthouse today against the "Bogus Charges" brought against her (photo: Keri Pickett)
Artist Acquitted After Charge for Facebook Post Supporting Line 3 Water Protectors
Shanai Matteson Acquitted – Judge Metzen Tosses Case Moments before Jury Trial Begins
It is clear from the evidence that the defendant did not commit a crime"— Judge Metzen

By Cheryl Barnds
Honor the Earth
July 14, 2022

AITKIN, MINN – This morning at the Aitkin County Courthouse, District 9 Judge Leslie Mae Metzen acquitted Line 3 Water Protector, Shanai Matteson, of Gross Misdemeanor Aiding and Abetting Trespass on Critical Public Service Facilities, essentially finding Matteson Not Guilty before the case was presented to the jury of six selected yesterday.
The fifth-generation resident of Palisade, Minn., cultural organizer, artist and mother of two young children faced up to one year in jail and thousands of dollars in fines.

Matteson was charged – by mail – after police surveilled her personal Facebook page where she made comments about opposing Line 3 construction and supporting protesters along the tar sands oil pipeline.
On Wednesday, July 13, the prosecution called only two witnesses – two police officers – before Matteson's attorney called for a dismissal.

"The judge this morning recognized the lack of evidence in my case, a case that should never have been brought in the first place!" explained Matteson, who expressed joy and relief with the decision. She also brought her Overburden/Overlook sculpture, which uplisfts the overlooked stories of women, work and water, to the courthouse today.
"I want to thank my attorney Jordan Kushner and all the volunteers for court support and legal organizing."

"I thought it was important to challenge this charge and plead Not Guilty," she continued, "because so many of the cases against climate activists – and especially Indigenous people acting in defense of their own lands and water – are facing similar baseless charges.
Many were charged after being profiled by statewide law enforcement, which received more than $8.6 million from an escrow account set up by Enbridge and the Public Utilities Commission. That is a dangerous precedent that only incentivized police to take careless measures like they did in my case and others."

"These were bogus charges that didn't have the evidence to support the offense," noted Kushner, a private civil rights attorney based in the Twin Cities.
"The prosecution failed in its attempt to criminalize Shanai's use of free speech and to create guilt by association."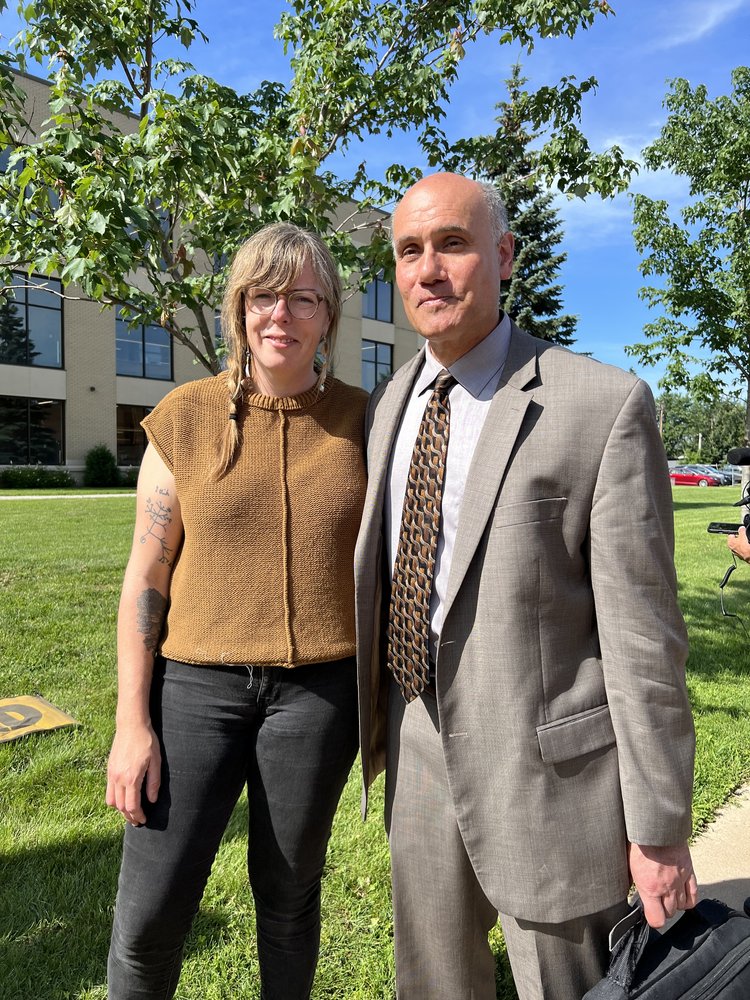 Post-verdict, Shanai Matteson and Attorney Jordan Kushner (photo: Keri Pickett)

"It's good to see that freedom of expression is still a protected right," said Winona LaDuke, Executive Director of Honor the Earth, who is heading to trial in August for trying to protect the Shell River.
"We're all pleased with the judge's decision here in Aitkin County where punitive practices are often the norm.
This is what happens when foreign corporations pay for law enforcement and direct and incentivize arrests and prosecution. The charges are exaggerated and the case falls apart."

For more information – or to interview Matteson, her attorney or others – please contact Martin Keller, Media Savant Communications, 612-220-6515.
mkeller@mediasavantcom.com
, @mediasavant


More Background

Over 200 Line 3 cases remain open after thousands of charges were brought against peaceful protestors during Line 3 construction last year.

Charges against three Indigenous Water Protectors were dismissed in White Earth tribal court last week (news release available)

Enbridge – in tandem with the Public Utilities Commission, which established a Public Safety Escrow Account –
paid
over $8.6 million to Minnesota law enforcement, including almost $2.2million to the DNR (news releases available)
LINKS
Dear Governor Walz
by Shanai Matteson, 7/14/22
When it comes to Enbridge Line 3, the scales of justice are badly out of balance
~ great deep dive on Enbridge's lack of accountability vs the prosecution of Water Protector Shanai Matteson for "conspiracy."
KAXE coverage
of Shanai's "conspiracy" trial, 7/11/22
The Story of Line 3
, CounterPunch, 7/8/22
KVRR
Judge dismisses charges against three Enbridge Line 3 pipeline protestors