The shooter was arrested and members of the militia, who call themselves the New Mexico Civil Guard, were detained by police. In Albuquerque, after one protester was shot by this man, Steven Baca.
Eyewitnesses identified this man as the shooter. The man, identified on social media as Steven Baca, said during his arrest that he called out that his father worked for the Bernalillo County Sheriff office. Heavily armed New Mexico Civil Guard members were detained by police at the scene. -- Censored News

By Brenda Norrell
Censored News
Albuquerque -- One man was arrested after shooting a protester at a gathering at the statue of the genocidal Conquistador Onate in Albuquerque on Monday. The injured man, protesting the genocidal Onate Statue, is listed in critical but stable condition. Heavily armed vigilantes of the New Mexico Civil Guard were detained by police and the shooter arrested.
Steven Ray Baca, 32, was arrested and charged with use of a firearm and aggravated battery.
A second statue of Onate in northern New Mexico was removed peacefully on Monday.

In Albuquerque, Ahtza Dawn Chavez, executive director of the NAVA Education Project, said, "We want to thank those who showed up to support the peaceful prayer gathering at Tiguex park earlier this evening. This prayer gathering was meant to garner support to remove the statue of someone who brought so much violence to many of our Pueblo people.


"Armed men, in militia gear, identified with New Mexico civil guard, were present near the statue and someone was shot. We were there to do away with monuments that uphold historical violence. Voices should not be countered with guns -- blood should not be spilled to protect a statue.

"People have the right to free speech and to assemble without fear of vigilante or police violence. We call on all New Mexicans to join our peaceful call for the removal of symbols venerating genocide." Ahtza@NAVAEducationProject.org
Rally to remove the statue of genocidal conquistador Onate in Albuquerque on Monday. Photo published with permission.
Members of the militia New Mexico Civil Guard at the rally in Albuquerque on Monday. Members of this militia group, the New Mexico Civil Guard, were also heavily armed and photographed on rooftops in Gallup, New Mexico, during the recent Black Lives Matter peaceful march.
Twitter video of militia protecting shooter after Steven Baca fired the shot that critically injured one person present. https://twitter.com/i/status/1272731193746747392

Onate was a mass murderer and butcher

Maurus Chino, Acoma Pueblo, said, "We equate the conquistador Juan de Onate and his soldiers with Hitler and the Nazis. Both practiced genocide. The Spanish land grant system is nothing but double-speak for the theft of native lands. These lands that were so freely 'granted' are Indian lands."

Stating the true history, Chino said, "In January 1599, a larger force was sent to Acoma, where an epic battle ensued lasting three days and by historical accounts of the Spanish themselves, the ended with over 800 hundred men, women, and children being butchered. Men over the age of 25 were sentenced to have one-foot cut and 25 years of slavery. Males between the ages of 12 and 25 were likewise given 25 years of slavery. Young girls between the ages of 12 and 25 were given 25 years of slavery. 60 young girls were sent to priests in Mexico, never to return to Acoma," Chino said in his historical accounts published at Censored News.
© Adolphe Pierre-Louis/AP
Albuquerque police detain members of the New Mexico Civil Guard, an armed civilian group, following the shooting of a man during a protest over a statue of Juan de Oñate on Monday, June 15, 2020, in Albuquerque, N.M.
New York Times coverage
from Albuquerque
Excerpts from KOB coverage in Albuquerque: Juan de Oñate statue to be removed following shooting during protest
By Justine Lopez and Megan Abundis
Updated: June 15, 2020 10:43 PM
KOB4 News
ALBUQUERQUE, N.M. - A protester was shot at Tiguex Park Monday evening during a demonstration that called for the removal of a Juan de Oñate statue, "La Jornada", outside the Albuquerque Museum.

The injured man has been transported to the hospital for treatment. He is listed in critical but stable condition.
A number of members with the New Mexico Civil Guard,
a self-described militia
, were seen being arrested along with the subject who fired at the protesters.

Law enforcement deployed tear gas and non-lethal projectiles to try to push back the group of protesters.



Juan de Oñate statue to be removed following shooting during protest |

Protesters continued to try to pull down the statue of Oñate while others attempted to let air out of the tires of police transport vans.

At around 9:20 p.m., the crowd began to disperse—leaving the statue intact.

'Tear gas. Very loud Flashbang. Nonlethal projectiles in a matter of seconds,' were reported by those present.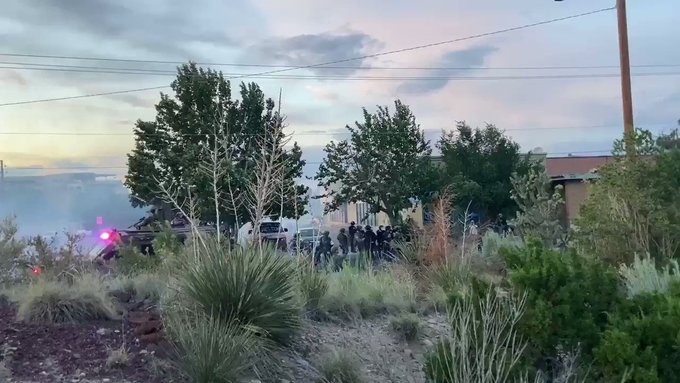 Albuquerque Mayor Tim Keller sent the following statement after Monday's shooting:

"The shooting tonight was a tragic, outrageous and unacceptable act of violence and it has no place in our city. Our diverse community will not be deterred by acts meant to divide or silence us. Our hearts go out the victim, his family and witnesses whose lives were needlessly threatened tonight. This sculpture has now become an urgent matter of public safety. In order to contain the public safety risk, the City will be removing the statue until the appropriate civic institutions can determine next steps."

The governor's office also sent a statement about the incident:

"Although we are still learning more about the situation, I am horrified and disgusted beyond words by the reports of violence at a protest Monday night in Albuquerque. The heavily armed individuals who flaunted themselves at the protest, calling themselves a "civil guard," were there for one reason: To menace protesters, to present an unsanctioned show of unregulated force. To menace the people of New Mexico with weaponry – with an implicit threat of violence – is on its face unacceptable; that violence did indeed occur is unspeakable.

"I am monitoring the situation; my administration is in touch with local officials; the individual who was injured is in my prayers, and I am thinking of their family and friends.

"Let me clear: There is absolutely no space in New Mexico for any violent would-be 'militia' seeking to terrorize New Mexicans; and there is no space for violence of any kind on our streets and in our communities, or for any sort of escalation of reckless, violent rhetoric, no matter who strikes first. The instigators this evening will be rooted out, they will be investigated, and they will be held accountable to the fullest extent of the law."