Facilitate EarthCycles Spirit Resistance
EarthCycles will be returning to Standing Rock to reactivate Spirit Resistance Radio for local FM broadcasting and international webcasting. The main objective is to set up the IEN with their own communications vehicle. Community begins with communication
Greetings Community,
These are dire times and all hands are needed on deck. We are in a time of great transition and are honored to offer our skills.
Earthcycles does communication logistical support for Indigenous communities impacted by resource extraction and social justice issues. We set up low power FM radio stations and do onsite webcasting to inform the greater public of what is happening on the front lines of these various issues.
Currently, Earthcycles will be returning to Standing Rock in the coming days to reactivate the local radio station 87.9 Spirit Resistance Radio. It is important to keep the Water Protectors informed with the movements of DAPL and the events that are happening in camp. We will also be facilitating the build of IEN's communications vehicle. This vehicle will replicate the Earthcycle's bus with all the modern technologies.
Along with the reactivation of the radio staion, Earthcycles will be webcasting the AIM West Unthanksgiving Alcatraz event in San Fransisco as well as finishing the FCC compliance for the Indigenous Radio Station, 91.1 Crow Voices, in Montana. All funds would be allocated to completing these projects in a timely and functional fashion.
We have a great opportunity at this time to steer things in the right direction and disengage from big corporations and oil industries. More than ever we are need to come together as communities and work as a team. Our work is to bring awareness to what is happening onsite and let people's voices be heard. All support is greatly appreciated. Team work makes the DREAM WORK. Water is LIFE. THANK YOU.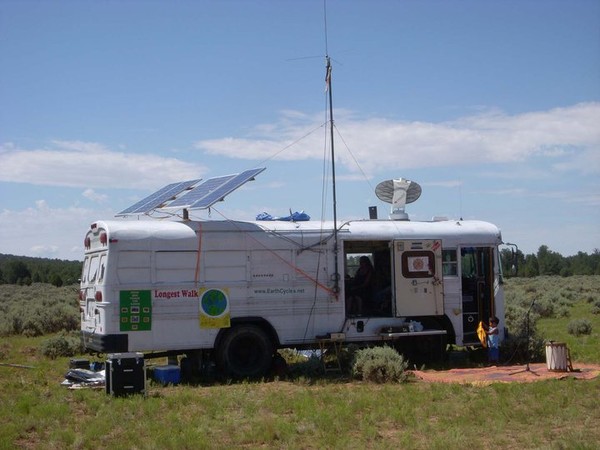 Earthycycles Team