WATER PROTECTORS ATTACKED AT BARRICADE
By Indigenous Environmnetal Network
Contact: Jade Begay, jade@350.orgCensored News

Cannon Ball - On November 20th at approximately

6PM CST

over 100 Water Protectors from the Oceti Sakowin and Sacred Stone Camps mobilized to a nearby bridge to remove a barricade that was built by the Morton County Sheriff's Department and the State of North Dakota. This barricade, built after law enforcement raided the 1851 treaty camp, not only restricts North Dakota residents from using the 1806 freely but also puts the community of Cannon Ball, the camps, and the Standing Rock Tribe at risk as emergency services are unable to use that highway.



Water Protectors used a semi-truck to remove two burnt military trucks from the road and were successful at removing one truck from the bridge before police began to attack Water Protectors with tear gas, water canons, mace, rubber bullets, and sound cannons.



At

1:30am CST

the Indigenous Rising Media team acquired an update from the Oceti Sakowin Medic team that nearly 200 people were injured, 12 people were hospitalized for head injuries, and

one elder went into cardiac arrest at the front lines. At this time, law enforcement was still firing rubber bullets and the water cannon at Water Protectors.

About 500 Water protectors gathered at the peak of the non-violent direct action.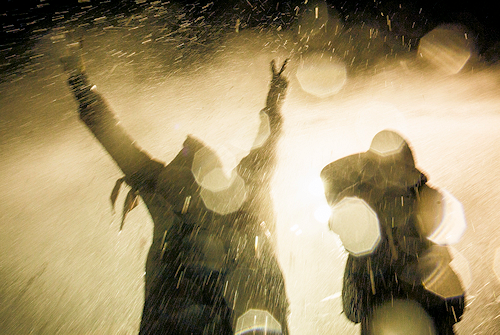 The following is a statement from the Indigenous Environmental Network:
"The North Dakota law enforcement are cowards. Those who are hired to protect citizens attacked peaceful water protectors with water cannons in freezing temperatures and targeted their weapons at people's' faces and heads.
The Morton County Sheriff's Department, the North Dakota State Patrol, and the Governor of North Dakota are committing crimes against humanity. They are accomplices with the Dakota Access Pipeline LLC and its parent company Energy Transfer Partners in a conspiracy to protect the corporation's illegal activities.
Anyone investing and bankrolling these companies are accomplices. If President Obama does nothing to stop this inhumane treatment of this country's original inhabitants, he will become an accomplice. And there is no doubt that President Elect Donald Trump is already an accomplice as he is invested in DAPL".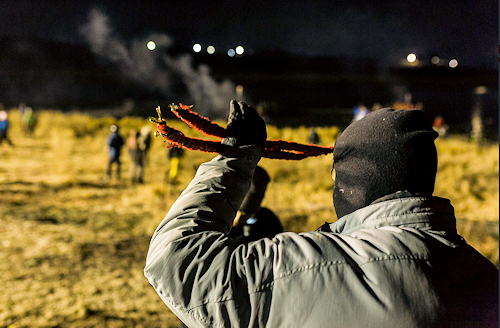 Photos by Josue Rivas:
https://drive.google.com/open?id=0B3PUbgj1p268N2tJeG9mUExrXzA